PODVoters: You're in the Center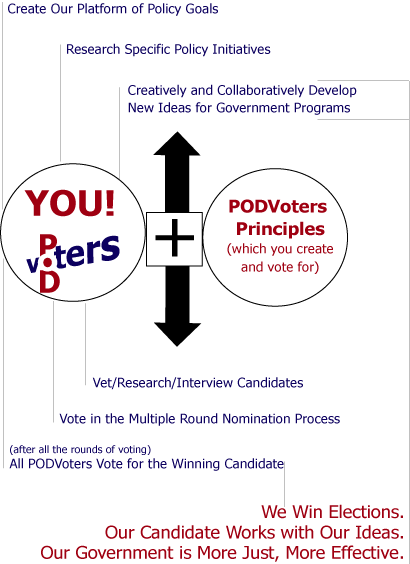 How PODVoters Works
PODVoters is an attempt to form a new political party and a new political party process which is coordinated and run entirely through the internet by us, the PODVoters (not large corporations, spin doctors, nor interest groups).
PODVoters' entire nomination process is online. Anyone can be nominated as a candidate--no political connections, influence or wealth is necessary nor will any of those things further you in our nomination process. Through the collective research and efforts of our members (not unlike how Wikipedia works), we will vet the candiates through judicious consideration of their accomplishments, demonstrated character, and other merits.
Candiates are not allowed to spend any funds on advertising or in anyway advertise themselves outside their designated space within the PODVoters site. This rids us of empty rhetoric, soundbytes and misleading advertisements.
We have a multi-round nominating process which solves the problem of "voting against" a particular candidate or not voting for your preferred candidate in order to prevent someone you really dislike from winning. This process insures we end up with the collectively most liked/least disliked candidate. A multi-round process also allows us as a group to consider dozens of candidates, not just some select few who already have political clout, wealth or influence.
Every PODVoter commits his or her vote to the candidate who wins the nominating process. We have to commit to the outcome to this process and vote in solidarity in order to win elections. All votes in the nominating process are (in some way going to be) public and can be checked to prevent fraud and manipulation.
Through having a set of principles which we all agree with, we have a common starting base to guide us as to what our policy goals should be. Through collective research and analysis, and creative thought and experimentation, we together develop effective policy to realize our goals.
PODVoters thus works by having:
A Set of Principles which drive our collective policy-making to make sure we're solving real problems and not engaging in endless, useless debate,
A Multi-Round Nomination Process via the internet which enables the best candidate to win and ensures that the collectively most liked and least disliked candidate wins, and
Voter Committment to the outcomes of our process and principles prevents dilution of our collective voice; through committing your vote to PODVoters, we vote with a single voice which will win elections.
I want to find out more. Read PODVoters (initial) Principles.